Computers New & Used
---
for Home or Business

Custom Desktop Computer Builds, including deployment (delivery, setup, mapping printers and network shares, etc)
Home Computers & Office Workstations Starting Under $600
No Computer Hardware Price Markups!
Our Price is Your Price!
No business is too small for data integrity!
Don't let your business computers age longer than 4 years due to hard drive warranty expirations, typically 3 years (consider our data backup services).
If your business is still running Windows XP be aware that Microsoft will no longer be supporting XP with updates. It was a good product, and had a good run, but it's time to upgrade your hardware and software. Let's talk about 64-bit multi-core processors, and your options for a modern computer operating system.
FREE Consultations!


Your system, your way --From basic email-reading and general browsing uses PC's, to high performance gamer enclosures with neon lights and all the bells and whistles.
We can upgrade all PC hardware for you (video cards, heat shielded RAM, hard-drives, dual monitors, power supplies, Blue-ray and DVD players.
As a rule: Built-in Video outputs are enough for most computers. However, a dedicated video card can substantially improve overall performance for heavy-use end-users that utilizing of multiple windows, multiple programs, on multiple displays is the norm.
Functionality can get glitchy. With large video-card memory comes additional PC performance increases and less frequent reboots (as display processes get offloaded from the CPU to the video card memory when it belongs, display graphics free-up further computer resources making everything run noticeably smoother and faster for greater lengths of time).

We offer batch computer discounted prices
Ultra Clean Computer Refurbs
PC's & Laptops!
Great For the Kids...One for the Kids:
Dual core laptops & desktops - starting $275
loaded with Linux Mint 14(Nadia) Operating System with plenty of games (learning and educational), office suite, and other basic open-source software.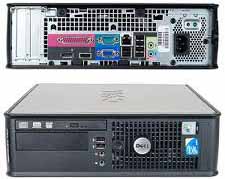 for example: Dell OptiPlex 780: Core 2 Duo 3.0GHz CPU, 4GB-DDR3 SDRAM, 80GB-SSD, Minimal Ram, 40gb SSD, small mouse & keyboard.(while supplies last)
Business Workstations & for the Power Home User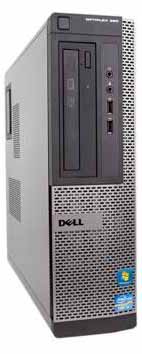 We continually purchase older computers that still have plenty of power and life, like this i5 with Windows 7 Pro
**Dell OptiPlex 3010 Small Form Factor
Intel Core 3rd Generation i5-3470 Processor
8GB DDR3 UDIMM Memory, 1600MHz
500GB SATA
Windows 8 Professional 64-Bit
(can Substitute for Windows 7 Professional
Graphics Card: 1GB AMD RADEON HD 7470
8X DVD+/-RW SlimLine Drive
Gamers Delight Units
Windows or Linux
Starting with 8GB RAM -- newer motherboards typically take up to 64GB
High performance video cards -- single, or multiple with SLI(nVidia) or Crossfire(ATI)
Typically a 4-core CPU (Intel or AMD) -- (8-core AMD's are very affordable)
Quality power supply (Thermaltake, CoolerMaster preferred and other well established notable quality power supplies)
Moderate to Extravagant Cases & accessories - wireless keyboard, mouse, special controllers, headsets, blinky lights, etc

Starting at $925
Next... well... you need(of course!) the sporty lit-up case with lots of colored fans for air flow & cooling your video card, or, water-cooled systems are even better than fans (less dust bunny cleaning, and a bit quieter).
Note to gamers upset with Windows 8: Steam is now available on Linux! For many PC power users, games are the last reason to stay with Windows, so this will be good news for some of you that don't want a duel boot system!
GPU Servers!
Bit Mining (Bit-Coin & Lite-Coin) GPU Servers
We have pro units, and the storage facilities that handle the cooling requirements, as well as uninterrupted internet connection.
Because of its high power cooling for the video card GPU's we can build something like this top of the-line- GPU Server with Parallel processing architecture to harness complex computational problems
for example: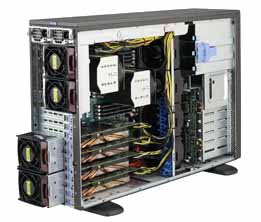 **Supermicro - 4U Server (many options)
1620W power supply (ea. video card wants a dedicated 250w to make it purr)
(2x) Intel Xeon 2.6 to 3.40GHz 8-core
(8x) for ea. cpu) 16GB DDR3 1866 ECC REG
RAID 10 Mirror + Strip
4x) Intel Xeon Phi 8G PCIE Video Cards
We can customize down from $4,000 video cards down to $2,000 video cards (and our favorite is under $500 each, like the "SAPPHIRE Radeon HD 7950 3GB GDDR5 PCI-Express Video Card") for coin mining calcs (ALU's (Arithmetic/Logic Units) you can mine bitcoins 24/7, Bitcoin with our bit mining servers.
We Host bit miners and their coin mining operations. We can Host Your Hardware, Rent Rack-Space at the colocation center, or rent our equipment for mining a profit.
Digital coins are a mainstream necessity - Get-in-on the mining now.
You Need The Most ALU's (Arithmetic/Logic Units) possible for hashing bitcoins and litecoin mining.

(how much coin mining do you want to do?) Call for a quote today.


Free Small Business Consultation & Data Center Tour
**Authorized Dealer