More Computer Related Services
---
Information Technology Specialists
Dedicated Enterprise IT Support Services
Customized to Your Business Operations
Computer Hardware Support & Services
Contracted IT Support Services, per incident or fixed monthly fee 
(Remote Services Discounted!)


Tiered IT Support with custom SLA requirements - Managed or unmanaged Service Level Agreements


Browser-based Service Ticket creation Portal (request assistance and view status)


Support & Service Available 24/7 (Linux, Mac and all MS Windows Pro & ENT Platforms)

Data Backup and Data Storage Solutions

Windows Server Solutions
-Web Development and Website Hosting
Network Services
VoIP Support & Systems
Security Systems
Video Conferencing
Custom Computer builds (servers to workstations)
Cabling & Wiring
(Phones, Internet, Cameras, Digital Conferencing, plus)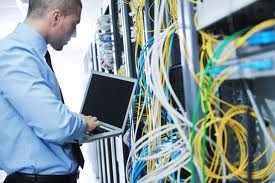 We offer Cat5e/6, RG-6, video, and audio cabling and termination for new and existing buildings.
From home and small office, to large multi-tenant buildings, we have you wired.
If you're looking to wire new construction, don't wait and treat it as an afterthought. Involve IT professionals at the design stage, and you'll save money while getting better results.
Video Surveillance Systems
Security cameras, wiring, and fully digital DVRs with remote viewing capability and optional off-site video backup are available.
We have a special team dedicated to Security Systems hardware installations, and computer software configurations. We can setup mobile viewing of your establishment so you can view and check-out what's going on from any mobile device while you're away. Easily monitor your business doors, cash registers, and parking lots separately or all at once from anywhere.
Computer Training
We can provide personal or small-class training for common business software (Windows, Office, etc) to more specialized industry applications (Calyx, Adobe, etc). As these are set up on a personalized basis, please contact us for details.
We are currently partnering with nationally-known hosted and premise-based VoIP provider.
Anti Virus Protection & SPAM-filtering
for email traffic (POP and SMTP) provided through McAfee (an Intel company), infused with MX Logic's state-of-the-art anti-spam filtering technology that's second to none (MX Logic now part of McAfee) for all email security, email archiving, plus hosting.
web security
Web Security with end-user browser content filtering policies.
Free Small Business Consultation & Data Center Tour